Document Downloads
Identifying School Safety Gaps & Selecting the Right Solution
Today's school safety leaders need an integrated safety platform that contains tools that function as a fluid system. By consolidating your resources, you will be better prepared to tackle safety and security issues.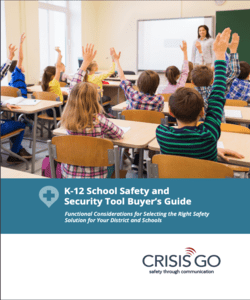 Technology is the key to unifying the safety resources and protocols school districts use to keep students, staff, and communities safe."Full Scope Safety: A Guide for Identifying School Safety Gaps & Selecting the Right Solution" demonstrates how districts can utilize a digital safety platform to allow schools to become more effective and efficient in their ability to prevent, prepare for, respond to, and recover from emergencies.
This guide showcases the critical hot spots that districts needs to consider when building a comprehensive school safety plan, as well as the solutions available for safety challenges. You'll learn how to:
Streamline emergency alerting communication and response
Quickly and efficiently account for students and staff during a crisis
Ensure every staff member has access to critical information
Bolster emergency prevention through safety reporting and threat assessment
And much more
Download this guide today to learn how to improve your school safety solution.
Please fill out the form below to receive your download.