Document Downloads
Power-Up Your School's Distance Learning
Ensure all students have access to a reliable home network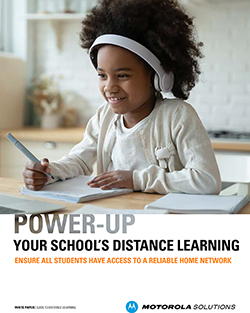 With the uncertainties surrounding the 2020-21 school year, school districts need to be prepared for many different scenarios. With any type of virtual schooling, it's vital to keep students and staff connected while off-campus.
Which means every student needs to have suitable internet access readily available to support all of their schoolwork and e-classroom technologies.
An LTE network solution can help bridge the digital divide that still exists with the simplicity of an easy installation without miles of cables. This solution also offers the added control of having complete ownership over your network.
Learn more about how an LTE network solution can keep students and staff connected in this new download, "Power-Up Your School's Distance Learning."
Get your free copy today!
Please fill out the form below to receive your download.