Document Downloads
Physical Access Control in Higher Ed
How to choose a secure and user friendly access control system that aligns with student expectations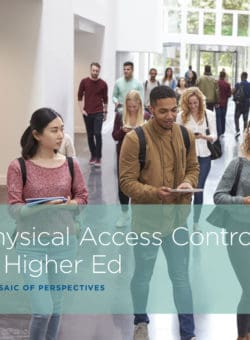 Getting everyone on board with choosing the right access control and credentialing technology can be a frustrating experience.
There are many different stakeholders across campus, including cafeteria, library, print shop, labs, dorms, and more. As well as several different types of technology, including magnetic stripe, Prox, barcode, and other smart cards.
The new guide, "Physical Access Control in Higher Ed," addresses the challenges security professionals face. This new free download covers:
Current state of access control systems
The evolving landscape
Emergence of mobile technology
A long term look
Download this free guide today!
Presented by:

Please fill out the form below to receive your download.