Document Downloads
Motorola: The Power of Team Communications for Schools
Only 17% of recent survey respondents felt that they would be able to communicate directly with first responders during a school incident. The ability for all school personnel, both onsite and district-wide, plus first responders to communicate seamlessly is critically important.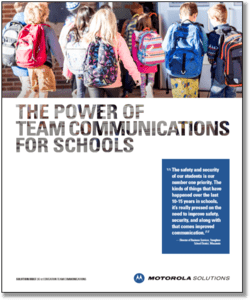 Seamless communication among school personnel and first responders is critical to ensuring the safety of our nation's schools. Delays in connecting teachers and administrators on-site with district personnel and police can be devastating.
This new download "The Power of Team Communications for Schools" outlines how the latest communications technology can help speed response times and effectiveness. It highlights:
Using push-to-talk for faster communication
Connecting with everyone on their preferred device
Sharing data in an effective way
According to a recent survey, only 19% of respondents felt they had achieved "always available" communication while 88% said it was critically important. Download this guide today to learn how you can take steps to improve communication in your school district.
Presented by:

Please fill out the form below to receive your download.