Document Downloads
Case Study: Making Better Security Decisions in Harris County Texas
Third-largest U.S. county embraces analytics to streamline security systems and reduce false alarms.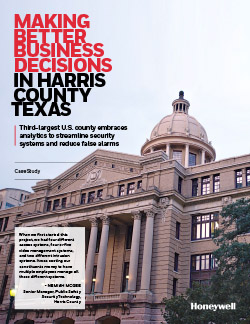 With a population of almost five million people, Harris County in Texas is the third-largest county in the United States. More than 15,000 employees in numerous public buildings support residents with services that range from public safety and jails, to law enforcement, courts and schools.
But the county had a problem: A lack of consistency in security products and transparency in systems used throughout the various buildings. This resulted in decreased operating efficiencies and more work for employees.
In this new case study, "Making Better Business Decisions in Harris County Texas," learn how this county was able to modernize their system to tie together their security systems and allow Harris County officials to streamline operations.
Get your free copy today.
Please fill out the form below to receive your download.