Document Downloads
Leveling Up With Campus Safety
Explore emerging video technologies for higher education campuses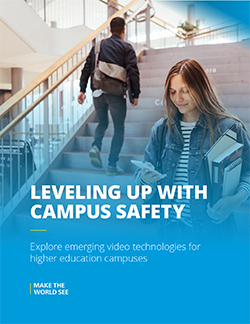 Emerging video technologies are exceeding expectations of campus administrators while enhancing the ability to move beyond security needs to improve operational efficiencies.
This new resource, "Leveling Up With Campus Safety," discusses issues campuses are dealing with and how to solve those problems. This eBook covers:
How to optimize Your Campus Security Plan
Innovation for Higher Education Systems
Challenges Facing Universities
Campus Security Technologies
Beyond Security: Leveraging Security Tools for Operational Purposes
Get your free copy of "Leveling Up With Campus Safety" today!
Please fill out the form below to receive your download.