Document Downloads
Leading Practices and Key Considerations for Evaluating Emergency Notification Solutions in Education Spaces
Schools should seek systems that can respond to everything from medical crises and student altercations, from severe weather to intruder events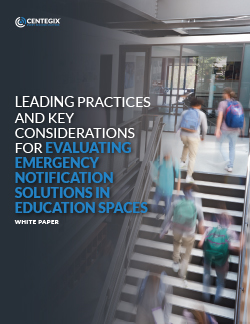 Do you know know which questions to ask when choosing an emergency notification system?
Asking the right questions about what sorts of features are most beneficial will help to ensure your school directs resources to the most effective emergency notification solutions.
This new guide, "Leading Practices and Key Considerations for Evaluating Emergency Notification Solutions in Education Spaces," will take you through four criteria to consider when assessing notification systems.
No matter what emergency your school district faces, it is crucial that all staff and faculty members can call for help and that the help arrives quickly.
Download this free guide today and learn the right questions to ask.
Please fill out the form below to receive your download.