Document Downloads
Keeping Students Safe on the Bus with Mobile Video
Canyons is a large Utah School District that has equipped its bus fleet with open platform, mobile video surveillance for student safety and incident investigation. Find out how their best practices can help your school district benefit from mobile video surveillance solutions.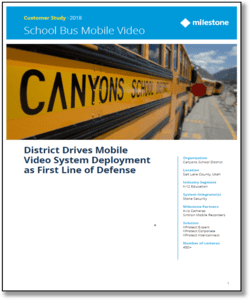 Canyons School District's bus system transports 15,000 students daily using a fleet of 175 buses. The bus environment is ripe for issues such as bullying, fights, inappropriate behavior, accidents, and vandalism. This is why Canyons School District turned to mobile video surveillance to help handle potential problems.
This new case study "District Drives Mobile Video System Deployment as First Line of Defense" provides best practices for defining and deploying a mobile video surveillance system, including:
The role of open platform technology
Strategies for building a connected solution
Tactics for ensuring total visibility
Download your copy today to discover how your school district could benefit from mobile video surveillance solutions.
Presented by:

Please fill out this form to access this resource.