Document Downloads
How Visual Security Elements Can Dramatically Increase School Security
Now more than ever, one of the most successful ways to build your security foundation is with an ID badge program.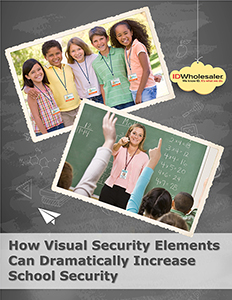 To build and sustain a high level of security, a school ID badge program helps ensure that each student, faculty member, volunteer, and visitor have a verifiable ID badge or visitor badge at all times. It's a simple yet effective way to keep your school safe knowing who is in the building at all times and being able to verify their identity.
Determining the right way to implement a program like this can definitely be a challenge, as there are many effective ways to create a more secure environment within our educational facilities. The first step in implementing an effective program is being prepared and making sure that you have the crucial resources to launch your badge program.
In this free guide, How Visual Security Elements Can Dramatically Increase School Security, you will learn the six critical areas your school needs to consider when implementing a new ID badge program or improving a current badging program.
This includes:
Going beyond simple ID badges, including "smart" cards
Leveraging holographic foil cards
Exploring new options in visitor management
Get the information you need to create an effective school ID badge program with this free guide.