Document Downloads
How the Cloud Can Improve the Campus ID Card Issuance Process
Download this free report to learn how cloud computing can help colleges more efficiently and effectively create ID cards AND improve customer service.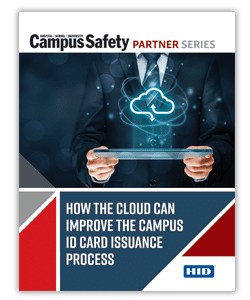 Issuing student identification (ID) cards is challenging for many institutions of higher education.
With the majority of student IDs printed during registration or summer student orientation, campuses often experience long lines of students flooding their small card issuance offices.
For campuses that use traditional on-site issuance systems, this problem is often caused or exacerbated by the computers used by card offices, says Nils Wahlander, senior marketing manager for HID Global.
"Universities that have traditional ID card systems need to install the issuance application and card printer drivers onto their PCs," he says. "The IT team also typically gets involved to make sure that somebody can successfully load the application on the computer and point it back to the existing university database."
Even after the application is installed, however, a campus card office can experience a whole host of other PC-related issues. Cloud computing can help address these and many other challenges associated with the traditional card issuance process, making it more
efficient and effective.
Download this FREE report "How the Cloud Can Improve the Campus ID Card Issuance Process" to learn how cloud computing can help YOU create ID cards more efficiently and effectively AND improve customer service.
Presented by: HID Global
View HID Global Profile