Document Downloads
How an Integrated Suite of Security Software Can Help Your Campus Improve Incident Tracking
Choosing security integration software for your campus is a big deal. If your campus is currently looking to do so, there are some things you should consider first.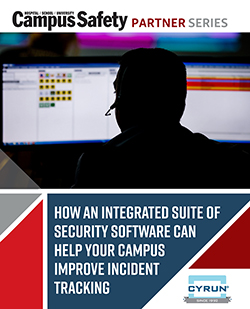 Many schools are reopening during this pandemic and need to have a strategy in place to address the concerns of parents, students, and staff.
Incident management tools allow each school district to set up their own policies and procedures for every incident type. This allows the district to tailor their responses to each county's guidelines and restrictions.
An incident management system can help increase efficiency and responsiveness by managing all public safety incidents and tracking all personnel activities across schools or districts.
This new guide, How an Integrated Suite of Security Software Can Help Your Campus Improve Incident Tracking, offers tips on how to pick a security software solution that is right for you. It also provides a case study of a Florida school district that used integration software to improve their incident tracking.
Download your free copy today!
Please fill out the form below to receive your download.