Document Downloads
How 2021 Video Surveillance Trends Will Impact the Education Market
Five predictions of what will influence the video surveillance market in the coming months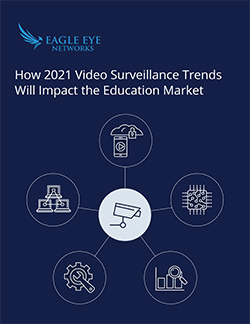 The school security landscape saw many changes since the beginning of 2020. With 2021 upon us, it's time to make some predictions on what trends will make an impact.
This new report, "How 2021 Video Surveillance Trends Will Impact the Education Market," focuses on five key topics that will influence the video surveillance market in the coming months. Included are insights on:
Cloud technology
Advanced analytics
Federal compliance
Open APIs
Download your free copy today to read forecasted trends through an education lens to help ensure your schools are safe, secure, and healthy in the new year and beyond.
Please fill out the form below to receive your download.