Document Downloads
Essential Strategies to Optimize Campus Security Technologies
Campus security is no longer just about guards and cards.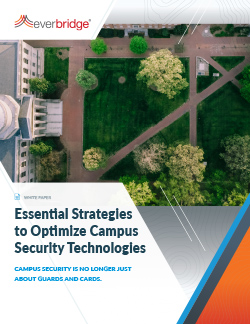 Each year, campus threats are becoming increasingly complex. Which means it has never been more imperative to be able to respond faster. New campus security technologies can increase your ability to assess risks and prevent those risks from harming people or disrupting operations.
This new download, "Essential Strategies to Optimize Campus Security Technologies," discusses how the role of campus security has changed. It also goes over the three pillars that make up an effective security operation: simplicity, flexibility and inclusion.
Download this free guide today and learn how to build a business case for your campus security.
Presented by:

Please fill out the form below to receive your download.