Document Downloads
Improve Your Campus' Communication Systems
Learn what communication challenges campus security professionals have faced during the COVID-19 pandemic and how the right software technology can address them.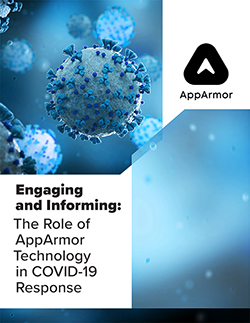 As they say, communication is key — especially for campus safety professionals during the COVID-19 pandemic.
Emergency managers, campus police, and security personnel all face the same challenge: determining how to most effectively communicate with and inform students, staff, and faculty.
Which is why a good communication system is so important. Beyond just mass notification, security professionals need a communication application that:
Deters inefficient communication methods, such as high numbers of inbound calls;
Provides a simple and credible method for information dissemination regarding the crisis;
Offers secondary resources to help end users cope with the crisis;
And can be updated in real-time
Learn how AppArmor has been able to leverage its software technology to help its campus clients respond to the COVID-19 pandemic in this new download, "Engaging and Informing: The Role of AppArmor Technology in COVID-19 Response."
Get your copy today!
Please fill out the form below to receive your download.