Document Downloads
Campus Safety Magazine – April 2018
When Child Custody Disputes Come To Campus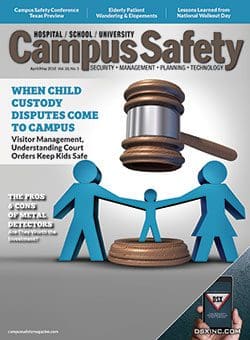 Protecting Students When Custody Disputes Come to Campus
Having thorough visitor management processes and a staff that is well-versed in understanding child custody paperwork are just two ways to ensure children are safe in school.
Spotlight on Campus Safety Conference Texas
This summer's Campus Safety Conference Texas will address a wide range of critical K-12 and higher education safety and security issues, including hurricane response and recovery, protests, threat assessments, active shooters, emergency notification, sexual assault, Clery compliance and more.
The Pros & Cons of Metal Detection
School and university officials must consider both benefits and the drawbacks of every security investment. Here's a look at this increasingly common entryway solution.
Responding to Elderly Patient Wandering: Part 2
Security technology and proper planning can help mitigate the risk of patient wandering and elopement, as well as aid your healthcare facility's response to a patient escape.
Lessons Learned from National Walkout Day
Thousands of students across the United States participated in National Walkout Day on March 14 to urge lawmakers to pass gun control laws.