Document Downloads
Campus Security Technology Trends to Watch in 2022
Take a peek at any new advances that could or should soon be embraced by school, higher education and healthcare security practitioners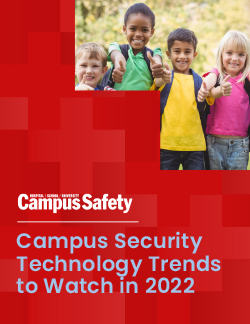 As we start the new year, there is no better time to look at the technology trends we've been experiencing over the past few years to see which ones will continue.
It's also a chance to peek at any new advances that could or should soon be embraced by school, higher education and healthcare security practitioners, emergency managers and law enforcement professionals.
This new free download, "Campus Security Technology Trends to Watch in 2022," gives an overview of the many promising opportunities as well as the challenges campus safety professionals face in the following areas:
Access Control
Video Surveillance
Emergency Notification
Cybersecurity
Get your free copy today to see what's in store for 2022.
Please fill out the form below to receive your download.