Document Downloads
Campus Safety Magazine – March 2018
The March issue of Campus Safety magazine is here. Check it out!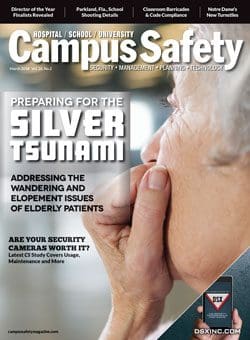 Preparing for the Silver Tsunami Part 1: Preventing Elderly Patient Wandering & Elopement
The U.S. population is aging, and the number of patients with Alzheimer's disease and dementia is skyrocketing. How is your hospital addressing their wandering and elopment vulnerbilities?
Meet This Year's Campus Safety Director of the Year Finalists
Congratulations to the 10 healthcare, school and university publicsafety, security and emergency management pros who have been named this year's Director of the Year Finalists!
Measuring the Value of Campus Video Surveillance Systems
The vast majority of K-12, higher ed and hospital campuses have security systems installed. CS' latest study finds out if they are worth it.
Classroom Barricades: Are They Safe?
Most classroom barricade devices violate ADA, NFPA and other federal codes that are designed to enable individuals with disabilities to quickly evacuate a dangerous situation.
Access Control Maintenance Best Practices
Being proactive when it comes to things like databse management and firmware/software patched can reduce potential problems in the future.
Notre Dame's New Turnstiles
Thanks to newly installed turnstiles, University of Notre Dame students no longer shiver in the cold while they wait outside in line to enter the dining hall.