Document Downloads
Campus Safety Magazine September 2018 Issue
Concealed Carry is Coming to Campus – Now What?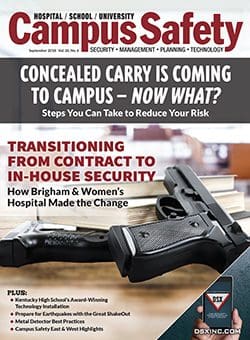 This issue features:
So,Concealed Carry is Coming to Your Campus. Now What?
Although allowing concealed carry at a school or university is fraught with perils, if your organization has chosen or been forced to allow guns on campus, the following practices will reduce this policy's potential pitfalls.
From Good to Great: How a Boston Hospital Transitioned from Contract to In-House Security
Brigham and Women's Hospital changed over from contract to in-house security officers to improve the quality and control of its security department.
Lessons on Effective Metal Detector Use from a Seasoned School Official
Here's why one South Carolina district recently overhauled its metal detector system.
The Great ShakeOut: Join Campuses Worldwide in Practicing for When Earthquakes Strike
Conduct Great ShakeOut earthquake drills so your campus community will be ready when the big one hits.
Case Study: Kentucky High School Installs Award-Winning Security Solution
A complex, comprehensive electronic security system installed at Frederick Douglass High School won the Security Sales & Integration Integrated Installation of the Year (Single Site) Award.