Document Downloads
Campus Safety Magazine – June/July 2018
The Power of Public Safety Partnerships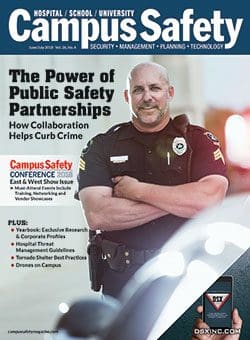 Your June issue of Campus Safety Magazine is now available for your reading enjoyment.
First Responders Can't Do It All: How a Virginia College Cut Crime by 50%
Here's how Northern Virginia Community College improved safety and decreased campus crime by adopting an approach that includes a wide range of community stakeholders.
Campus Safety Conference East & West Preview
Get ready for Campus Safety Conference East and West! Held in Herndon, Va., July 18-20 and in Pasadena, Calif., July 30-Aug. 1, these premier events for K-12 and higher ed public safety, security and emergency management professionals include must-attend educational sessions, networking events and vendor showcases. Here's what's in store.
Lessons Learned from Averted Acts of School Violence
By submitting and reviewing ASV reports to the Police Foundation, you can better protect your own school or college, as well as help other campus safety professionals across the country to improve security.
Protecting Your Hospital Employees from Domestic Violence
With 75 percent of domestic violence victims being targeted at work, here are some steps you can take to protect your employees who are victims and their coworkers.
Addressing the Threat of Drones on Campus
Although drones, or unmanned aircraft systems, have many positive uses, they can also pose a threat to healthcare and educational campuses. This guidance will help you manage that threat.
Best Practices in Tornado Shelter Design
Schools should conduct hazard analyses, space calculations and site assessments so everyone on campus can locate the best available tornado sheltering options.