Document Downloads
Campus Safety Magazine August 2018 Issue
Does Your Salary Measure Up?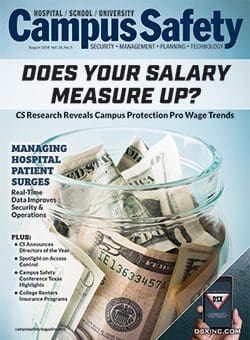 Your August issue of Campus Safety Magazine is now available for your reading enjoyment.
CS Salary & Benefits Survey Results Revealed
The results of CS' comprehensive survey of more than 700 campus protection professionals reveals the median salaries for a wide range of K-12, university and healthcare public safety, security and emergency management personnel. Benefits, diversity issues, weapons and staffing levels are also addressed.
How Real-time Data Can Improve Hospital Security & Operations
Here's how hospitals can keep track of breaking incidents in their communities so they can provide appropriate treatment and security during patient surges.
Got Dorms? Consider Renters Insurance
New approaches to renters insurance programs are helping protect students and colleges from common risks, such as fire and theft.
Access Control Special Section
Integrated solutions that offer multiple credential options are great ways to protect your facility.
Balancing Security Technology with Privacy & Civil Rights
A campus adopting any type of new security technology must not only investigate its benefits, but also its potential for abuse.