Document Downloads
Roadmap for Colleges Creating Concealed Carry Policies on Campus
A comprehensive report gives college officials a step by step guide to create and implement concealed carry policies on campus.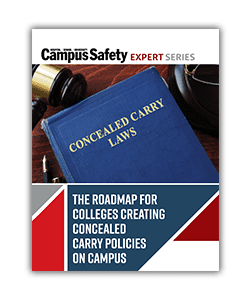 Handgun laws have been a topic of discussion for quite some time now. Some states are allowing concealed carry on campus even in the wake of the gun controversy currently plaguing the country. With this push across the country to decrease these restrictions college officials are now facing a challenge. How to put in place a safe and effective concealed carry policy on their campus.
The change to allow students and faculty to carry concealed handguns on campus is a daunting one for officials. There are many considerations college appointees must include while constructing their new handgun policies. The most significant challenge they face is forming protocol that aligns with both the campus culture and state requirements.
Earlier this year The DOJ-funded National Center for Campus Public Safety (NCCPS) released a report on this subject. The report provides guidance to higher education institutions that now need to create a new firearm policy to meet the new state laws. Our Step-by-step guide is a summary of the 50-page report and includes an outline to base the policy around.
In addition to providing an outline for crafting the policy, this report also guides officials on how to put the plan in place. Implementation is an essential step because it ensures that everyone within the college is aware of the changes on campus. There is also a need for community awareness when these changes ensue. An effective communication plan will reduce questions, fears, and concerns that may arise with these changes.
Take advantage of our free resource to help construct a concealed carry policy that works for your campus. Download this FREE guide today!