Document Downloads
Best Campus Security Practices for Building Bulletproof Incident Reports
What campus security teams need to know in order to build reports and mitigate risk.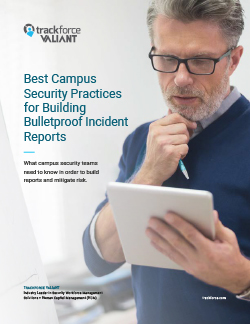 As much as you can plan and take preventative action, incidents will occur. When they do, they need to be accurately reported and addressed.
When campus incident reports are properly structured, they leave no question on what happened and how.
This new guide, "Best Campus Security Practices for Building Bulletproof Incident Reports," outlines the key elements campus security professionals should be aware of when setting up incident reporting as well as best practices for creating bulletproof incident templates for your security team. Topics include:
The 3 Elements Required for a Comprehensive Incident Report
Free-form Inconsistent Reporting vs Templated Repeatable Method
What to Include in your Incident Report: 6 Essential Components
Get your free copy of this new guide today.
Please fill out the form below to receive your download.