Document Downloads
Assessing Safety Readiness
A self-guided needs assessment for independent school districts.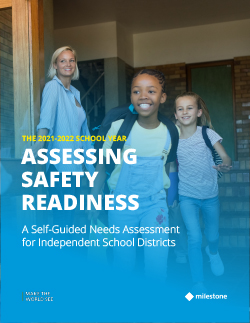 In order for students, staff and faculty to thrive, establishing a sense of safety and stability is vital.
Ensuring the right measures are taken by using technology aligned with your district's safety concerns can reduce safety related incidents, provide a sense of preparedness, and strengthen security for students and faculty.
This new guide, "Assessing Safety Readiness," addresses leading concerns for this current school year. It covers topics such as:
Covid-19/Contagion Response
Physical & Mental Well-Being
Proactive Security Monitoring
Plus it provides a self-guided needs assessment to help you evaluate the readiness of your district as well as links to more resources. Get your free copy of "Assessing Safety Readiness" today.
Please fill out the form below to receive your download.