Document Downloads
Assessing Safety Readiness For Education Campuses
Strengthen your school's security by taking this safety readiness assessment and learn how to align technology with your district's concerns.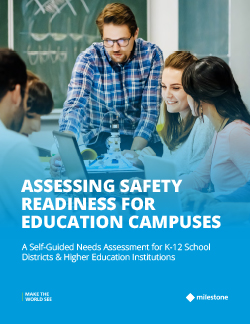 None of us know what the "new normal" will be or when it might arrive. Safety readiness on school campuses is in flux now as it was when the pandemic began.
The primary job of educational leaders is ensuring a healthy and productive learning environment. Making sure the right measures are taken by using technology aligned with your district's safety concerns can reduce safety related incidents, provide a sense of preparedness, and strengthen security for students and faculty.
This new guide, "Assessing Safety Readiness," addresses leading concerns for the upcoming school year. It covers topics such as:
Security Challenges for K-12 and Higher Education Schools
Proactive Security Monitoring with Video Technology
Addressing Students' Physical & Mental Well-Being
Clery Act Concerns
Plus it provides a self-guided safety needs assessment to help you evaluate the readiness of your district as well as links to more resources. Get your free copy of "Assessing Safety Readiness" today.
Please fill out the form below to receive your download.