Document Downloads
Anatomy of a Healthy Building
An analysis of safety & security elements to help create healthier campus spaces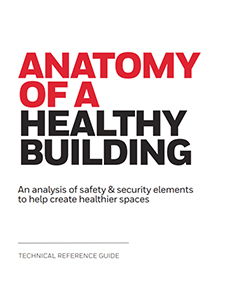 Never has monitoring the safety and security of your campus buildings been so important.
Managing occupancy, identifying potential exposure to contagions and detecting noncompliance to new regulations can present challenges for schools and hospitals.
This new guide, "Anatomy of a Healthy Building," covers what you need to know to protect the health of your students, faculty, and staff. Topics include:
Making sense of regulatory guidelines
Air quality & space health management
Social distancing & mask compliance
Access control & occupancy management
And more
Learn how to maintain a healthier building. Download this new technical guide today.
Presented by:

Please fill out the form below to receive your download.