Document Downloads
Advanced Severe Weather Tracking Tools for School Safety
New tracking technology is now available to help campus officials make the best decisions and keep students and staff safe when severe weather strikes.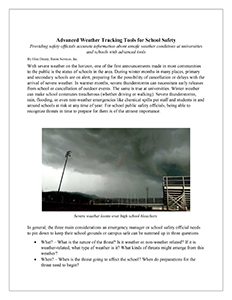 The unpredictability of severe weather can be a challenge for schools and universities to prepare for. But having a plan and the right technology in place can be critical to keep students and staff safe.
Winter weather can make school commutes dangerous. Severe thunderstorms, rain, flooding, or even non-weather emergencies like chemical spills put staff and students in and around schools at risk at any time of year.
Oftentimes, campus officials only rely on the local weather station or NWS to inform their decisions. But their area of responsibility is broad and not focused on a single place, which is the kind of focus a public safety official needs in severe weather situations.
New advanced weather tracking technology is now available to schools to help officials make more informed decisions that better suit the safety of students, faculty, and staff.
In this free report, "Advanced Weather Tracking Tools for School Safety," you will learn how to better plan for severe weather threats, including severe thunderstorms, tornados, and extreme heat and cold. You will also find out more about the latest weather tracking tools and their advantages.