Document Downloads
Active Shooter Response Plan for Higher Education
Learn how using technology can help to prevent active shooter incidents at higher education institutions and protect lives.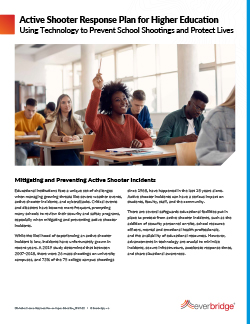 Active shooter incidents are unpredictable and evolve quickly, creating a lasting effect on students, faculty, staff and the community. There are several safeguards educational facilities put in place to protect from active shooter incidents. However, advancements in technology are crucial to minimize incidents, secure infrastructure, accelerate response times, and share situational awareness.
This new resource, "Active Shooter Response Plan for Higher Education," offers a phased approach to protecting lives and institutions. Topics include:
Mitigating and Preventing Active Shooter Incidents
Recovery Policies and Procedures
How Technology Can Help
Get your free copy of this new download today to learn more!
Presented by:

Please fill out the form below to receive your download.