Document Downloads
FREE Active Shooter Online Training Course for Campus Safety Professionals
Learn how to how to respond to an active shooter situation quickly and effectively with this FREE online training course.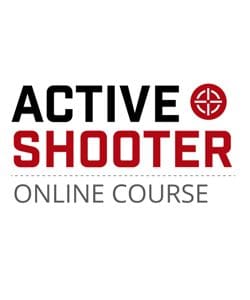 While there are no foolproof methods to guarantee that active shooter and active killer events won't take place in a particular setting, there are strategies that provide possibilities and probabilities that attacks can be averted. While there are other viable approaches that can be helpful in reducing the risks of active shooter attacks, these strategies are among the most practical for the majority of campus settings.
What Will You Say When You're Asked About Your Active Shooter Plan?
Be prepared! Get access to our Active Shooter training course – at no cost.  This comprehensive course includes core training with 7 sessions of Active Shooter safety training including the pre-planning section, the Personal Plan section (Run, Fight, Hide), and the summary.
Defining the Threat
Recognizing Signs of Potential Violence
Recognizing Signs of the Active Shooter Event
Personal Response Plan – Run, Hide, Fight
The Aftermath – Learn the Lessons from an Event
You'll also get:
Bonus Training – Focuses on four areas of special consideration: K-12, Higher Ed, Healthcare facilities and Houses of Worship. Each section has an overview.
Presentation Templates: The four presentation templates are located in each of the bonus training areas.
This Active Shooter Online Course will teach you how to quickly identify that an active shooter situation is happening.  In addition, it will enable you and your team to take fast and decisive action in the presence of a life-threatening situation. Every second counts, and communicating quickly and clearly will result in saved lives.
Please fill out the form below to receive your download.