Document Downloads
A Guide to Critical Event Management
Through a unified CEM program, campuses of all sizes can have confidence in their ability to identify, assess, address, and analyze an event no matter where and when it may happen.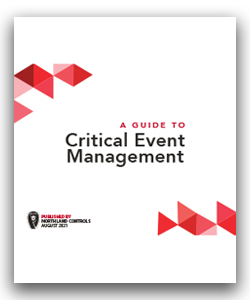 Turn on the news and you will see a daily mix of mass shootings, historic weather events, data breaches, and other on-campus incidents. For campus security professionals tasked with keeping employees and students out of harm's way, these events can be unnerving.
How you manage critical events, and with what technology, can be the difference between a substantial crisis and a close call. In this new resource, "A Guide to Critical Event Management," you'll learn how a critical event management platform will allow you to streamline your resources and automate your response. Other topics include:
Most Common Critical Events
Top Challenges When Managing A Critical Event
Five Steps to Building A Strong CEM Program
And More
Get your free copy of this new download today!
Please fill out the form below to receive your download.