Document Downloads
Transitioning Institutional Knowledge: A Guide for Facility Teams in Education
Rising retirement rates for facility workers, combined with outdated document management systems, creates a perfect storm of disruption.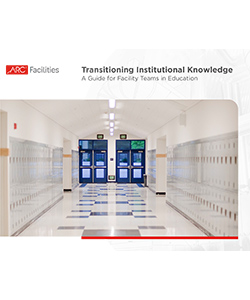 School districts and universities depend on school facility managers to ensure buildings and their systems remain safe, comfortable and sustainable. When something goes wrong, the facilities manager gets a call. However, a recent ARC Facilities survey revealed about 40 percent of facilities managers planned to retire by 2025.
This new resource, "Transitioning Institutional Knowledge: A Guide for Facility Teams in Education," addresses the challenge schools are facing with an aging workforce and a lack of instant access to critical building information. Topics in this guide include:
Planning for Tomorrow's Leadership Changes Today
Digitizing (and Organizing) All Building Information
Taking Advantage of Technology
Get your free copy of "Transitioning Institutional Knowledge" today.
Please fill out the form below to receive your download.