Document Downloads
8 Forward Thinking Ways to Turn School PA Systems into Effective Life Safety Communication Tools
Overhaul your school's PA system to meet today's safety protocols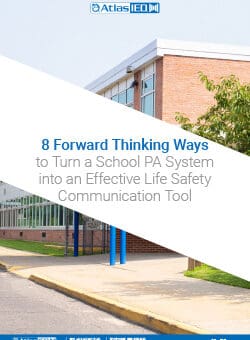 School PA systems have long been used to communicate the daily schedule, dismissals, and other routine announcements. But with the right technology, old-school PA systems can become easy and effective safety communications tools.
This new download, "8 Forward Thinking Ways to Turn School PA Systems into Effective Life Safety Communication Tools," offers eight ways to overhaul your school's PA system to meet today's safety protocols.
Topics include:
Integrating IP Endpoints
Combining Audible and Visual Messages
Using Mobile Delivery
Automating Notifications
And more…
Get your free copy today and put your PA systems to work!
Please fill out the form below to receive your download.