Document Downloads
8 Questions to Ask When Selecting a School Safety Alert System
Consider asking these questions when you review emergency notification services or panic button apps to ensure the service you select will perform when your district and community needs it.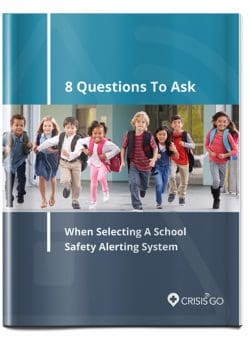 Choosing an emergency notification system for your school can be a frustrating process. You want to make sure that not only does the system fit into your budget, but that it performs the way your school and community need it to in all emergency situations.
But if you start with the right questions, choosing the best technology for your needs becomes easier. Questions such as:
Can the system be used for virtually every situation – not limited to only active intruder, fire, or bomb threat?
Does the system integrate with other investments?
Can alerts be triggered from a variety of devices?
This new guide, 8 Questions to Ask When Selecting a School Safety Alert System, not only provides questions to ask, but also the reason for asking and what you should be looking for when choosing the right system.
Investing in the right safety notification system is an important decision. This guide will help you get the process started.
Download your copy today!
Please fill out the form below to receive your download.