Document Downloads
Top 5 Reasons Colleges and Universities Are Moving to Smart Cards
Learn how schools are cutting costs while enhancing security with smart cards in this free report.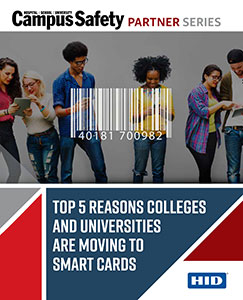 Educational institutions face increasing security threats along with shrinking budgets. Colleges and universities must keep their campuses secure in as cost-effective manner as possible.
Smart cards are becoming the solution — economically providing access control along with other applications students and staff need.
Older technology such as magnetic stripe or proximity cards are vulnerable to fraud and provide limited security.
New "one-card" technology provides:
More secure physical access control
A cashless payment system
Streamlined access to college services
Flexibility to make changes
And more…
Plus, printing a single credential as opposed to many is more efficient, leading to shorter lines, energy savings, and other benefits