Document Downloads
2022 Window Security and Safety Survey
This free report includes findings from Campus Safety's Window Security and Safety Survey.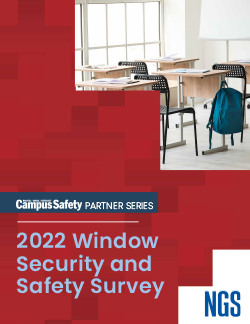 According to Campus Safety's latest survey, 43% of participants say their glass doors and windows are the security systems most likely to fail during an unauthorized intrusion.
The security vulnerabilities posed by glass doors and windows appear to be a significant gap for many schools, colleges, and healthcare facilities, according to the 2022 Campus Safety Window Security and Safety Survey. Topics covered in this report include:
Campus Professionals' Confidence in Existing Window Security
Opportunities to Partner with Other Stakeholders
Perpetrator Motives
Get your free copy of the latest survey results from Campus Safety.
Please fill out the form below to receive your download.