Document Downloads
2022 Campus Safety Video Surveillance Deep Dive Survey
Get the latest research results on video surveillance usage and planning in schools, higher education and hospitals.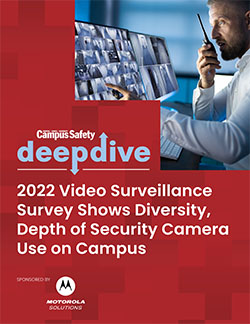 Campus Safety's latest survey finds that security camera surveillance continues to be extremely popular among campus professionals, being utilized in a variety of different ways, from traditional campus surveillance to weather emergencies and more.
The findings in this year's survey have been compiled in the "2022 Video Surveillance Deep Dive Survey" report. The study identified that over 93% of schools, colleges, and hospitals have security cameras and a majority of them are in the market for new and updated systems.
Other topics covered in the report include:
Other uses for video surveillance and the benefits of it
Maintenance and replacement of surveillance systems
Video surveillance system successes and challenges
And more
Get your free copy of this year's survey results today.
Please fill out the form below to receive your download.