Document Downloads
2022 Emergency Notification Deep Dive
According to the 2022 Campus Safety Emergency Notification Survey, fewer organizations are using more than one alert system, which could put them at risk during a crisis.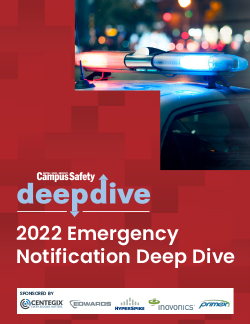 It's a best practice for schools, institutions of higher education, and healthcare facilities to have multiple modes of emergency notification.
A combination of text alerts, loudspeaker announcements, and digital signage can avoid a communication failure.
However, the results from the 2022 Campus Safety Emergency Notification Survey found that fewer campuses are deploying two or more alert systems than they have in previous years. This year's Deep Dive survey surveyed over 200 campus professionals. Topics include:
Integrating Multiple Technologies
Challenges Reaching Hearing-Impaired, Sight-Impaired
How Often And When Emergency Notifications Are Used
How Often Systems Are Tested
Get your free copy of the 2022 Emergency Notification Deep Dive Survey today.
Please fill out the form below to receive your download.