Document Downloads
Campus Safety's 2018 Salary and Benefits Report
The results of this survey of more than 700 campus protection professionals reveals the median salaries for a wide range of K-12, university and healthcare public safety, security and emergency management personnel.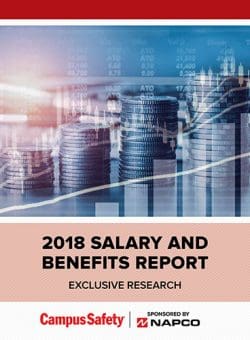 How does your salary compare to other campus safety professionals around the country? What about benefits? Are officers satisfied? Has diversity improved?
Campus Safety has surveyed more than 700 campus protection professionals in 2018 to get answers to these questions. The results have been compiled and are now available to you in the 2018 Salary and Benefits Report.
This comprehensive report includes:
Salaries for Police Chief/Security Director, broken down by regions, campus size, department size, and time in the industry
Starting and median salaries for Sworn Officers and Nonsworn Officers, broken down by region
What benefits and incentives officers are receiving
Job satisfaction among campus safety professionals
Staffing level changes
Department diversity numbers
And more…
Some key findings include: Salary increases for many professionals are slightly ahead of the rate of inflation since 2015. However, nonsworn officers' pay and benefits are lagging. Diversity is holding steady and staffing is still a struggle.
Download your free copy today!
Presented by:

Please fill out the form below to receive your download.