Document Downloads
18 Months Without A Fire Drill: How Your Emergency Exercises Can Make A Come Back
Pro tips and key considerations to make the most of your safety drills as students return to face-to-face classes.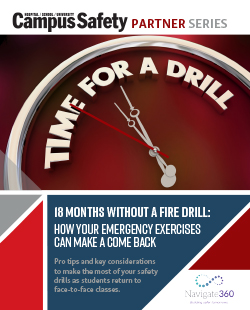 We all know that "practice makes perfect," and no place is that more apparent than with safety drills.
Those long months of empty classrooms mean your school safety team will face more than the typical summer's worth of cobwebs when it comes to ensuring the safety and security of everyone who walks your halls. And COVID-
driven factors have made the safety of your students, staff and schools more challenging than ever.
This new resource, "18 Months Without A Fire Drill: How Your Emergency Exercises Can Make A Come Back," offers tips and considerations when re-starting emergency drills. Topics covered include:
How to Make the Most of Your Drills
Recognize the Impact of Emotion and Take These 3 Steps to Minimize It
The Key to Improved Safety: Make Safety Initiatives a Priority
Get your free copy of this valuable resource today.
Please fill out the form below to receive your download.