Say 'Goodbye' to Your Paper Guest Log
Relying on archaic paper guest logs to chronicle who enters a building and why can make public safety and campus administrators understandably nervous. Electronic visitor management systems can help hospitals, schools and universities keep better track of guests.
Show of hands: How many of you have visited a building where you are asked to sign a paper guest log? OK, now how many of you have signed "Mickey Mouse" to see if anything would happen? Chances are, nobody noticed. Finally, how many of you have perused the paper log to see if your competitor has been there? These are some of the biggest security issues with the paper guest log.
Yes, it is very inexpensive and easy to use, but when it comes to security and today's mandate to keep track of who is in your campus buildings and why, the old paper and pen method fails miserably. Now, how many of you are still using a paper guest log to track visitors to your own buildings? And what about that generic handwritten badge you ask the visitor to stick on his/her lapel? Not only does it look bad, it is also very easy to copy, which means just about anyone could create their own visitor badge and waltz right on in.
In today's elevated security environment, the paper guest log for visitors and contractors has a number of critical shortcomings:
You can't always read people's handwriting
You can't collect detailed, accurate information (not enough space)
You can't capture a photo of the visitor
The information about who is visiting whom is not confidential; it is sitting there for other visitors to view
People can make up an employee's name to get into the building or just copy the name of an employee that someone else wrote
In the event of an emergency, you cannot quickly pull together a list of who is still in the building (especially if you can't read people's names)
Hand-written, generic badges are too easy to copy
This method does not instill a sense of security in either visitors or employees
Software Can Help Campuses Manage Visitors
About 10 years ago, software companies started developing a computerized way to process visitors more accurately, quickly and easily. The goals of these systems were to improve security and enhance the customers' image by enabling them to deal with guests more professionally.
With a standard personal computer and inexpensive label printer, these systems allowed users to fill in a simple visitor form on the screen, then print a high-quality, customized badge for each visitor. Since all visitor information was stored in a database, these early "electronic visitor management systems" also allowed users to do quick searches and print reports with just a few mouse clicks. The information about each visitor was detailed, accurate and kept confidential (only the administrator, guard or receptionist could view the data, not the visitors).
Over time, these systems have continued to evolve and add features, making them even more secure, easier to use and faster. Today, the leading visitor management systems are integrated with a number of peripheral hardware devices, such as passport scanners, driver's license readers, business card scanners, digital cameras, electronic signature capture pads, proximity card readers, fingerprint readers and barcode scanners.
Rather than having to type each visitor's information into the system, you can now scan or read their passport/driver's license/business card to automatically capture their name, company, title, phone, E-mail, address, license number, expiration date, date of birth and more – all within just a few seconds. Some of these devices will even capture the photo off the license or passport, as well as a copy of the ID, and store them in the visitor record. You can even make full-color prints of the visitor's photo on the badge along with the photo and name of the employee being visited.
The use of a camera also allows campuses to capture the visitor's photo. And for places of business where visitors are required to read and agree to a Non-Disclosure Agreement or Rules and Regulations statement, or any other document, the more sophisticated visitor management systems also allow you to capture the visitor's signature electronically as part of the visitor record. That signature can be linked to the type of document that was read and agreed upon.
The better systems now enable campuses to print barcodes on the visitor badge, allowing users to simply scan each visitor's badge on the way out, so the system can track the date and time they left, and keep an accurate record of who is still in the building.
Access Control Integration Among Value-Added Features Available
Today's electronic visitor management systems offer an assortment of attractive and useful features that can be tailored according to the application. Let's take a closer look.
Custom Badge Design: If you have numerous tenant companies on your campus, wouldn't it be nice to be able to print each company's logo, in full color, on their visitors' badges? Or perhaps you'd like to have the name of the employee or patient being visited on the badge, or their photo. Or maybe you want to print the expiration date/time on the badge, or the type of visitor, or the areas they are allowed to access. All of these things are possible with a full-featured visitor management system.
Web-Based Preregistration: In addition to the basic features of information capture, badge printing, monitoring and reporting, today's higher end visitor management systems also allow any or all of your employees to preregister their visitors via the Internet or an intranet. Some visitor management companies will even host this service for you on their own Web servers if you are in a building that does not have a Web server.
Access Control Integration: If you have an access control system in place for employees, or if you have turnstiles that restrict access to an elevator bank or other area of the building, it might be convenient/necessary to be able to give certain visitors automated access. This can be done through integrating the visitor management system and the access control system. As an example, some systems allow proximity cards to be automatically activated and deactivated for visitors, or enable a bar-coded badge to open a turnstile or activate an elevator bank for a certain floor.
Security Alerts: The more advanced visitor management systems will also provide you with a number of programmable security alerts. One such necessary alert checks each visitor's name against a list of people who should not be allowed to enter the building (former employees, estranged spouses, etc.), and alerts the guard or receptionist when a match is found, telling them how to handle the situation. Other useful alerts might include E-mailing the employee being visited whenever a visitor is checked in for them, or alerting security that someone who is still on the premises has an expired badge. There are also real-time services that will check each name against government denied party databases and sex offender lists.
Biometrics: With the advance in the accuracy of biometrics within the past several years, high end visitor systems can now also use devices like an iris camera or a fingerprint reader to enroll visitors and contractors who will be returning to the facility on a regular basis. In the former case, this means for subsequent visits, all they would need to do is touch their finger to the reader to bring up their record and print a badge.
Employee List: Some systems provide a method for automatically importing and updating your employee list, so that when a visitor is checked in, you can drop down a list of employees to quickly indicate who they are visiting. The employee list could reside in your access control system, your HR database, or in some other file.
Networking to a Central Database: Buildings on your campus may have multiple entries as well as a loading dock that you want to cover with tighter visitor control. In this case, the visitor management system should be able to be networked from multiple locations to share a central database. Alternatively, you might have multiple buildings in a campus environment with the same need to share a central visitor database. Ma
ny facilities across the country and even around the world share a single visitor database over their Local Area Network (LAN) or Wide Area Network (WAN).
Visitor ID Solutions Suited for an Array of Applications
Secure visitor management systems are rapidly replacing the outdated and low-security paper guest logs found in most buildings today, including K-12 schools, colleges and universities, hospitals and museums, commercial and residential multitenant buildings, and government and corporate offices.
With a full-featured visitor management system, whether you have a single building with one entry, or more than 100 facilities on a large campus, you can process visitors in 10-20 seconds by automatically reading a driver's license or business card. You can print a professional-looking badge with company logo, visitor photo and any other information. You can run reports and query the database. Your employees can preregister their visitors via the Internet/intranet, and you can keep unwanted people out of your building(s).
Perhaps most importantly, your visitors and employees will feel safer, knowing each visitor is being properly screened before being allowed to enter.
---
Visitor System Gets High Marks From High School
Before Putnam Valley High School installed an electronic visitor management system, visitors had to sign in at the main desk using an outdated paper sign-in book. Principal Raymond Cooper worried the old method of logging visitor information and keeping track of visitor movement would prove inadequate and, at worst, dangerous in today's world. "The media's coverage of recent school violence made us aware of the need for greater school security," he says.
After evaluating several different options, Cooper decided the secure visitor management (SVM) solution by Needham, Mass.-based EasyLobby would best serve the New York-based school's needs. The system functions by scanning a visitor's driver's license, uploading the information into a database and printing out an ID badge displaying the visitor's photo and name.
The badge also includes a destination, date and time. An exposure time of 12 hours ensures that visitors remain on campus only as long as necessary. "A little stop sign appears after the badge expires," Cooper says. "Our faculty and staff are trained so that if they see a visitor in the hallway with an expired badge, they alert the main office and guide them back to the front."
Thus far, the system has performed admirably and exceeded everyone's expectations. "We've received a lot of positive responses both from the community and local law enforcement, who are always encouraging us to implement these kinds of security measures," Cooper says.
Nor was the system difficult to install or use. "There's a minimum hardware list, and once the software is loaded, its operation becomes very intuitive," he says. "I had a clerical worker learn the system within a day."
---
Howard Marson is the CEO of EasyLobby Inc. He can be reached at [email protected] or (781) 455-8558.
To subscribe to the unabridged print version of Campus Safety magazine, click here.
If you appreciated this article and want to receive more valuable industry content like this, click here to sign up for our FREE digital newsletters!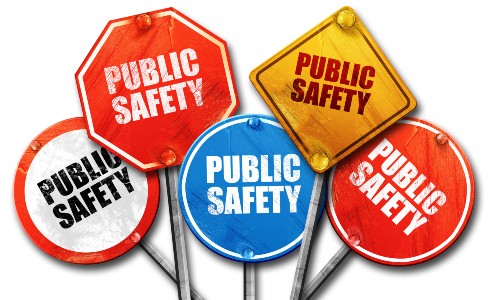 Leading in Turbulent Times: Effective Campus Public Safety Leadership for the 21st Century
This new webcast will discuss how campus public safety leaders can effectively incorporate Clery Act, Title IX, customer service, "helicopter" parents, emergency notification, town-gown relationships, brand management, Greek Life, student recruitment, faculty, and more into their roles and develop the necessary skills to successfully lead their departments. Register today to attend this free webcast!